Examples for Primary School children
HERE ARE SOME EASY IDEAS YOU MIGHT TRY FOR STARTERS!
Remember there are many ways to write a poem and it does not have to rhyme – we just want to see some really interesting ideas. YOUR ideas.
ACROSTIC POEMS
How to write an acrostic poem – look here: https://www.poetry4kids.com/lessons/how-to-write-an-acrostic-poem. Simply write the title of the poem down the page and begin each line with the first letter as shown here:
Ice Cream
I love every flavour.
Cookies & salted caramel
English Toffee.
Chocolate Chip.
Rocky Road.
Even Strawberry and
Almond Fudge.
Mmmmmmmm.
RECIPE POEMS
The poem below focusses on some pretty awful ingredients – what sort of recipe would you like to write about. A recipe for peace/ friendship/ summer holidays/ a great birthday??? What about a perfect family – have a look here: https://www.familyfriendpoems.com/poem/recipe-for-perfect-family
The Incredible Dish
Take one pimple, squeezed freshly today
Add in a spider with some curds and whey
then two maggots juicy and fat
two hairs from the back of a flea covered rat.
Bring to the boil for ten minutes or more
Chuck in a toe nail and an old apple core
Flip in a finger, drip in some glue
Stir it and add in the sole of a shoe
Dice up the dead skin from one of your toes
add in the dribble from out of your nose
Serve it with blisters and old rotten fish
What do you think of this incredible dish???
LIMERICKS
Limericks have five lines and are usually funny - you can look up loads of limericks on this website - http://www.kidzone.ws/poetry/limerick.htm.
Or search for the poems of Edward Lear: https://www.familyfriendpoems.com/poem/limericks-by-edward-lear
There once was a farmer from Leeds
Who swallowed a packet of seeds
It soon came to pass
He was covered in grass
And you couldn't see his head for the weeds.!
THE MAGIC BOX
http://www.bbc.co.uk/education/clips/zd9bwmn
Listen to Kit Wright read his amazing poem – The Magic Box – then think about what you might put in your magic box. What would the box be made of? Where would you keep it? The thing with this poem is to think of only amazing things.!!!
Also lots of amazing resources on this website: http://childrenspoetryarchive.org
LIST POEM
Here is an example of a simple list poem – this one rhymes but yours does not have to.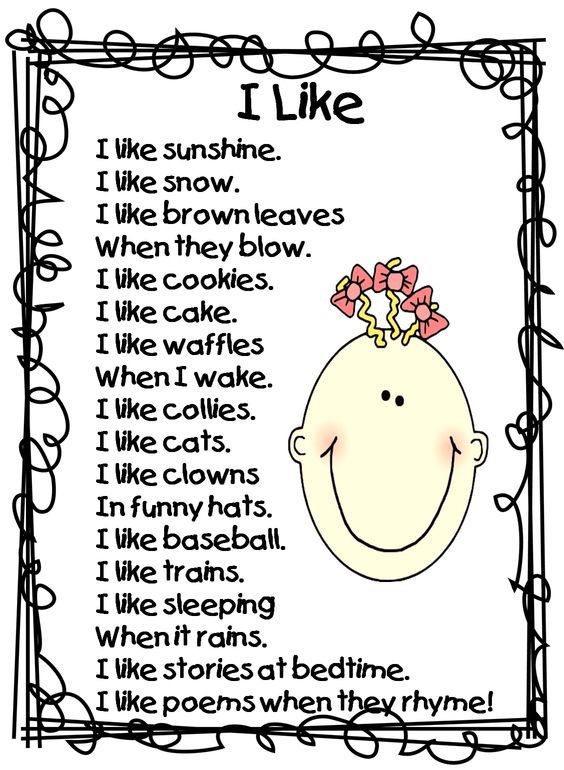 FUNNY POEMS have a look on YOU TUBE for ideas!!!!
Just type Youtube into Google and then these titles:
Funny children's poetry: "The worm that wouldn't wiggle" - poems for kids

Poems for children: "The fish that couldn't climb trees" - funny kids poetry

Or what about a RAP??!!!
More ideas on You Tube like : Respect Rap

Learn to Rap - fun interactive video for kids (Simon Mole Poet)

Or just this – great ideas for starting a poem:
Write a poem in under 10 minutes - fun interactive video for kids (Simon Mole)
and remember these - GOOD THINGS TO USE IN A POEM:
Great adjectives – descriptive words –

Use all your senses – sight/ sound/ touch/ smell/ taste/ hearing

Use a simile – The kitten was white as snow/ He was cold as ice

Interesting verbs – not just - go / said/ went / asked… think out of the box.

Alliteration – Silly susan slept soundly in the scorching sun

Rhyme and rhythm